Nationwide SBA Loan Brokerage And Consulting Firm
ThinkSBA is a nationwide SBA 504 and 7(a) loan brokerage specializing in sourcing capital quickly and efficiently for our clients.
Specifically, we help our clients acquire capital to purchase owner occupied real estate, acquire a business or franchise or buyout a partner.
Our partners include commercial real estate brokers, business and franchise brokers and residential real estate agents and brokers.
We also work with trusted advisors, such as, CPA's, fractional CFO's, fractional accounting firms and wealth advisors etc.
Ryan Smith – Founder & Loan Broker
ThinkSBA was formed by former banker and commercial lender, Ryan Smith, with the goal of helping business owners and entrepreneurs acquire the capital they need to purchase real estate, acquire a business or franchise or buy-out a partner.
Ryan has leveraged his most trusted lender relationships to assemble a portfolio of funding sources proven to be responsive to our clients unique borrowing needs.
That means no more interviewing banks, filling out gobs of paperwork and answering endless questions just to get turned down. Smart business owners choose ThinkSBA.
Our Values
Transparency
We will always fully disclose important matters no matter how if affects our bottom line or your perception of our services.
Speed
We are conscience to answer our phones, emails and follow up quickly at all times knowing that your time is valuable.
Accuracy
The SBA and their partner banks rely on accurate information to make informed decisions. That's why we employ the latest loan packaging technology to make the loan application process more efficient for everyone involved.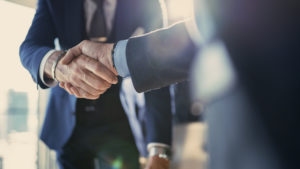 Call An SBA Loan Pro Today!
Don't know whether you qualify for an SBA 7(a) or SBA 504 Loan to acquire a business or purchase real estate?
No problem, you're one click away from scheduling a call with an SBA Loan Pro.
Schedule a call today!
The Benefits of Hiring An SBA Loan Broker
Navigating the SBA loan program and application process is complicated.
For starters, the entire SBA loan program, including borrower eligibility requirements and all policies and procedures, is governed by the SBA's Standard Operating Procedures Manual also known as the SOP for short.
The SOP is a 400 page document filled with industry jargon and references. To make matters worse, it is regularly updated making it nearly impossible for an applicant to know everything necessary to successfully apply for an SBA loan on their own.
This begs the question, "Where should an applicant turn to prepare themselves to successfully apply for an SBA loan without wasting time, money and other precious resources?
Many applicants simply turn to their incumbent Bank. The benefits of working with their bank include familiarity, trust and rapport. The potential negatives include; the bank not being a respected SBA Lender, the bank not being the right fit which may result in a bad experience or even worse a credit decline, and the bank not offering the lowest interest rates and fees for which the applicant qualifies.
Many applicants also ask their trusted advisor network for lender referrals. This option amounts to a crap shoot as most trusted advisors have little to no familiarity with the ins and outs of SBA lending.
The third option is hiring a trusted SBA Small Business Loan Broker. Many consumers are comfortable hiring a residential mortgage loan broker to finance the purchase or refinance of their primary residence and it should be no different for business owners and entrepreneurs who are in need of financing to purchase or refinance their owner user real estate and/or acquire a business.
The benefits of hiring an SBA loan broker include:
Working with an expert who is proficient in the details of SBA financing
Being matched with the right SBA lender from the start
Having a trusted advisor who is on your team and can answer questions or give advice through the entire application process from start to funding
I want to warn you that not all loan brokers are created equal. When applying for an SBA loan, beware of any loan broker who doesn't focus primarily on SBA loans, requires fees to be paid upfront, is not properly licensed, makes unsubstantiated guarantees or promises regarding interest rates and loan approval, and anyone who advises and/or encourages unlawful actions to get the deal done at any cost.
Now it's time to talk about one SBA loan broker in particular, me, Ryan Smith.
I align my goals with my client's goals ensuring we proceed through the loan application process with a common purpose for a common good.
I accomplish this by not charging an upfront fee. Instead I earn my commission only after the loan has been funded and my clients goals have been met. Even better, in most cases my commission is paid by the SBA lender with no additional out of pocket expense to my clients.
From the outset I expose potential obstacles and impediments to successfully completing the SBA loan application which speeds up the timeline and dramatically decreases the likelihood of a dreaded last minute decline.
Last but not least, I structure the loan application to ensure borrower eligibility and compliance with all SBA policies and procedures and will negotiate the lowest fees and interest rates for which my clients qualify.